Prism for C/AL
Our code browser and analysis tool for the Microsoft Dynamics NAV platform.
Prism for AL
Our new code browser and analysis tool for the Microsoft Dynamics Business Central platform.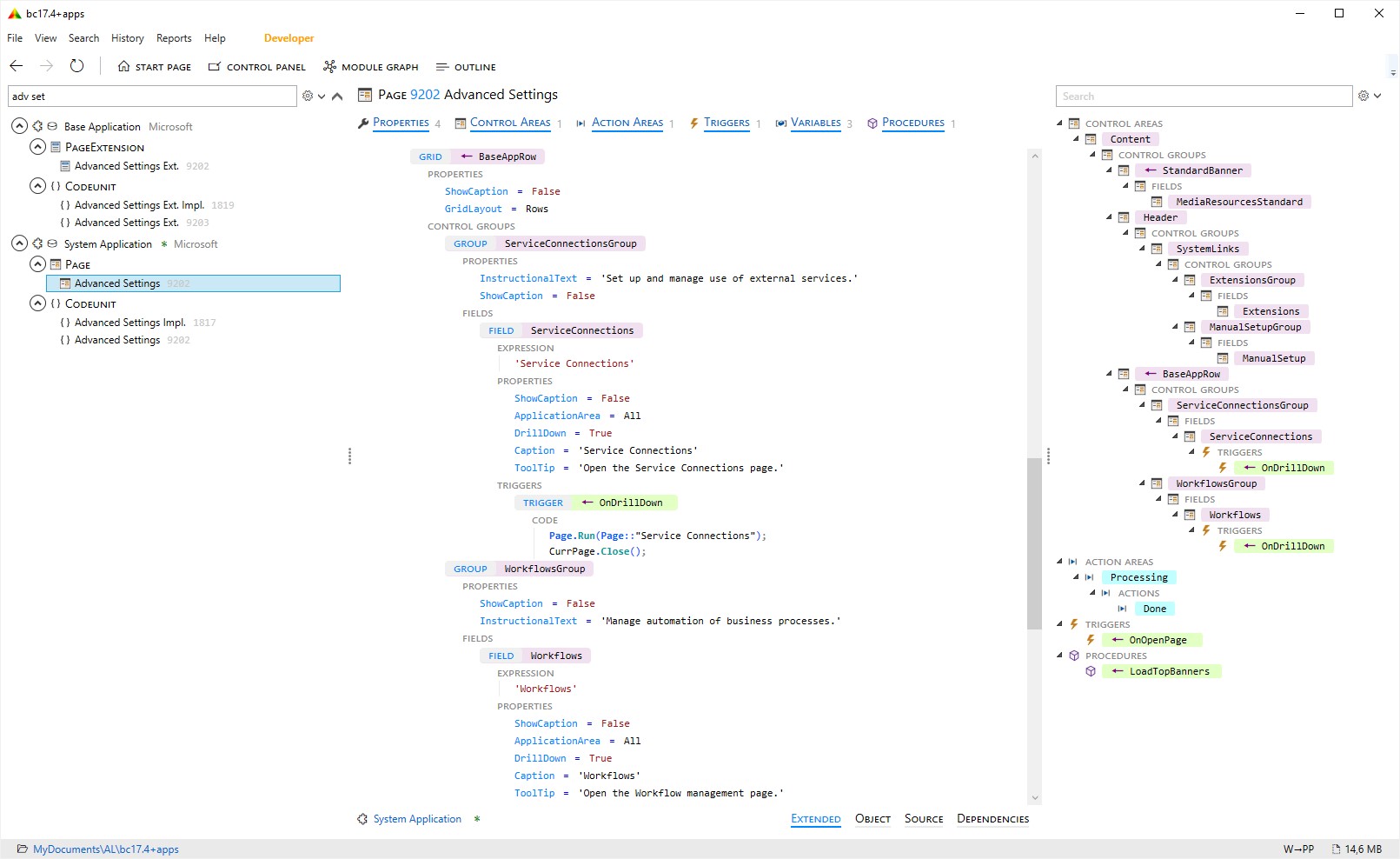 Solution Overview
Dependencies
Used By - see inbound dependencies
Usings - see outbound dependencies
Navigate between dependencies
Metrics
See number of objects per type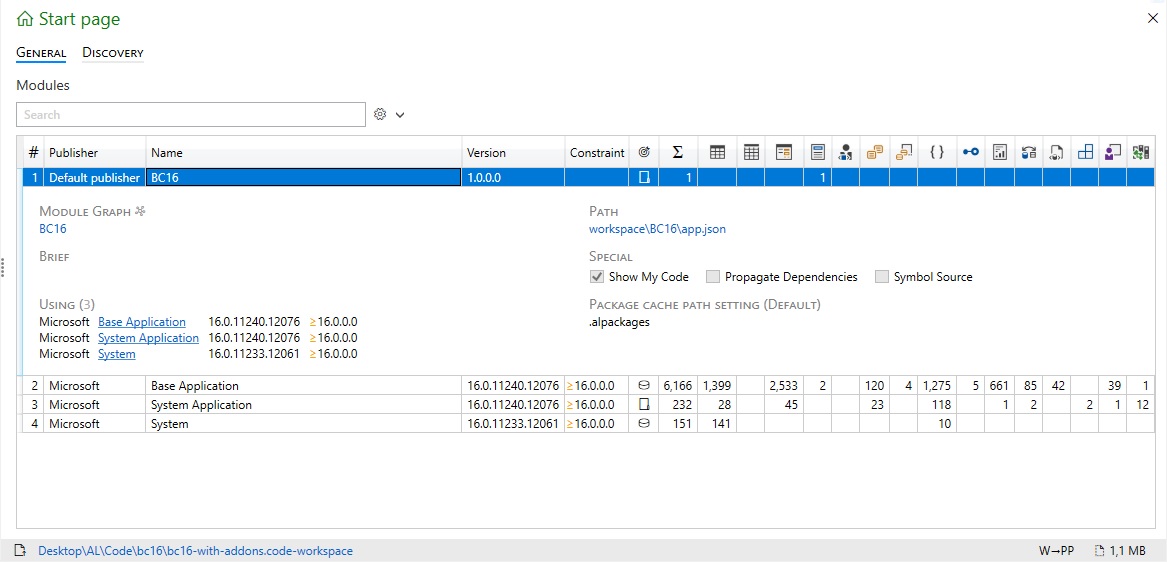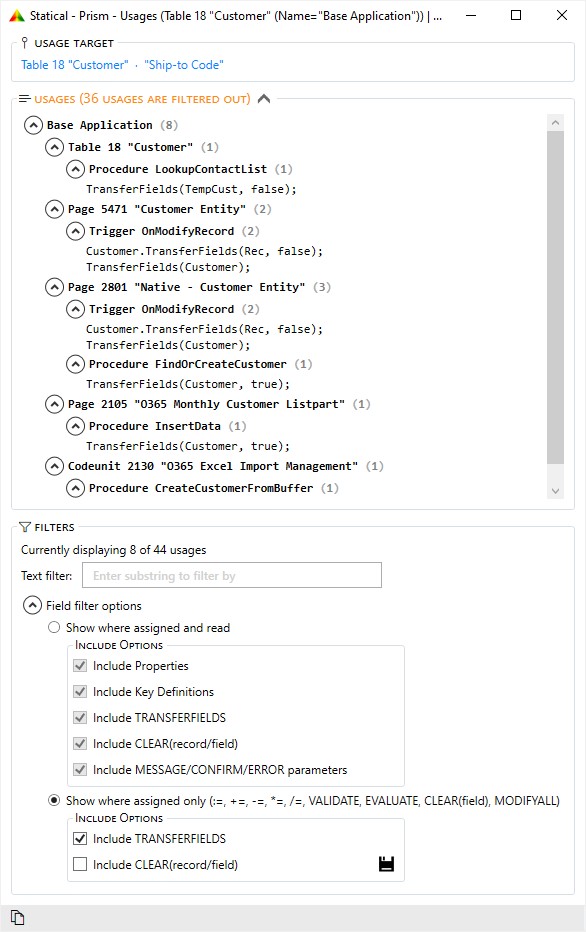 Find Usages
Go deeper
Right-click declarations anywhere (procedures, fields, etc.) to find usages
Find usages across entire multi-module workspace - even in symbol files
...and navigate to usages - also in symbol files
Expand search in results window
Focus on relevant usages
Flexible field filterings
Text filtering
Find Usages
Find usages of system instance methods
An Example: Chasing inserts
Find usages of insert on a given table
Distiguish between usages with temporary or persistent (physical) effects
System Instance Methods
Create: Insert
Read: FindFirst, FindLast, etc.
Update: Modify, ModifyAll
Delete: Delete, DeleteAll
Other: TransferFields, IsTemporary, CalcFields, SaveAsXml, etc.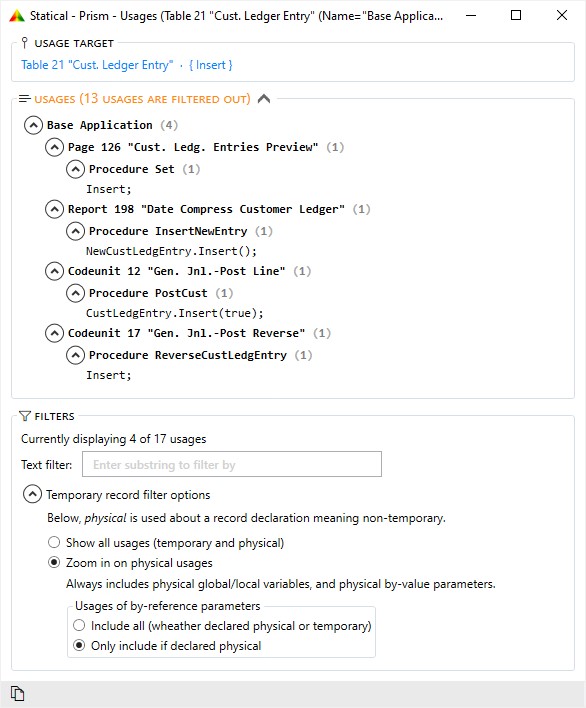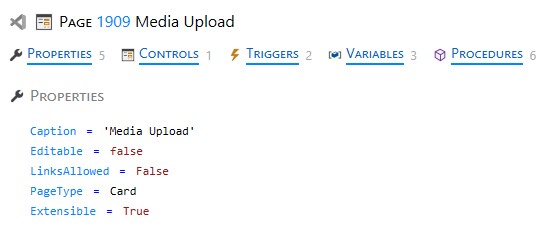 Time-Saving Shortcuts
Navigate directly to code groups (fields, procedures, controls, etc.)
Dependency View
Powerful high-level inter-object dependency view
Usings (outbound) and usages (inbound) depencencies
Found dependency kinds are marked with a checkmark
Many kinds of dependencies are indexed and shown
Go Deeper
Find usages on each object dependency via context menu
Follow dependency chain by left-clicking on dependency objects
Search objects to reduce candidates
Open one or more depenency views in separate windows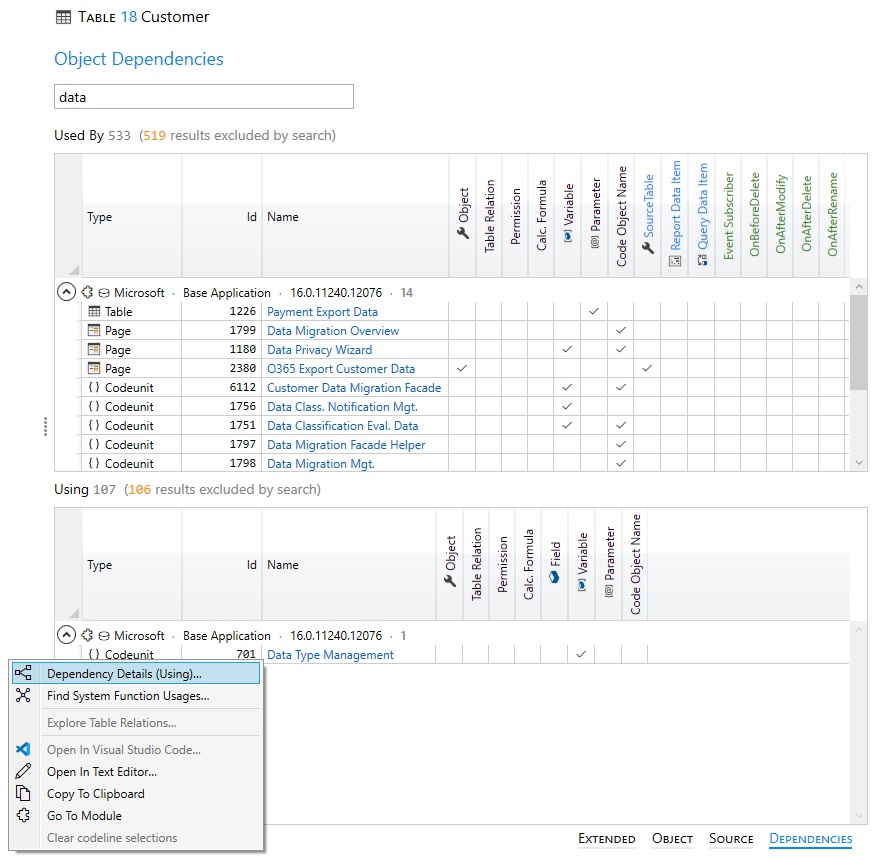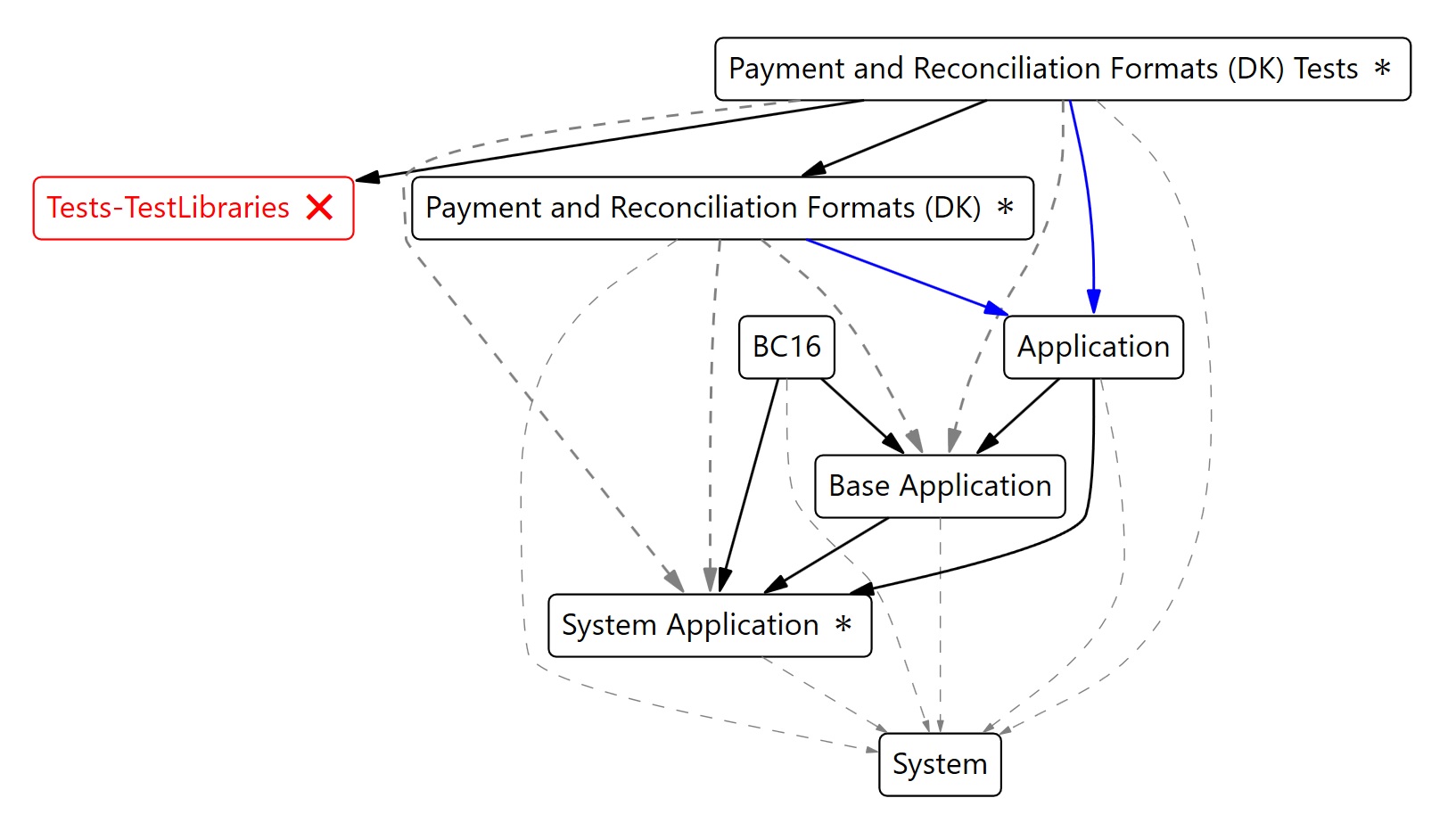 Connect The Dots
Tame the complexity and make sense of it all.
Visually traverse dependencies
Propagated dependencies (e.g. Application)
Version constraints
Modules with only symbols marked with asterisk *
Flexible display options
Navigation Outline
Textual wildcard search
Filter options for declaration types
Display options (show/hide details)
Inline extension declarations
Expressive search syntax (e.g. foo|bar|20..42, etc.)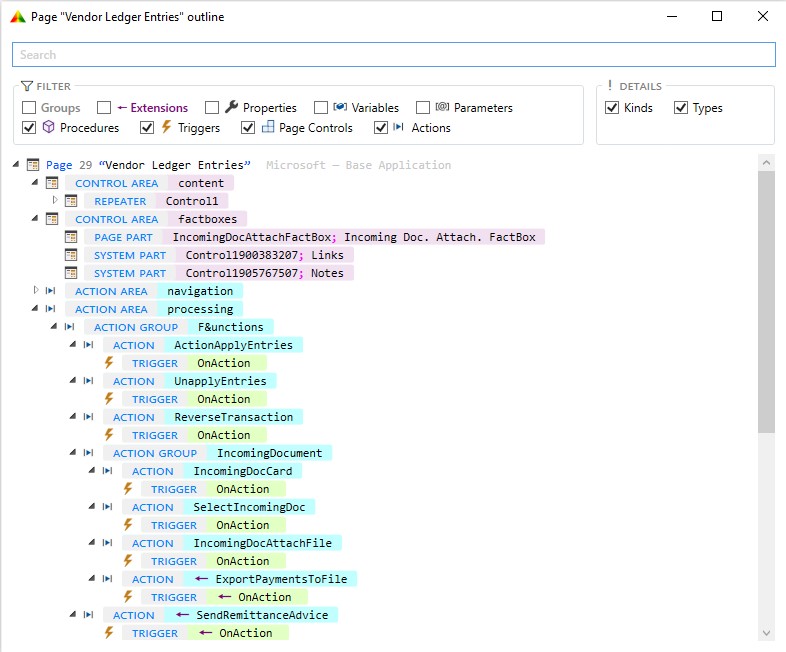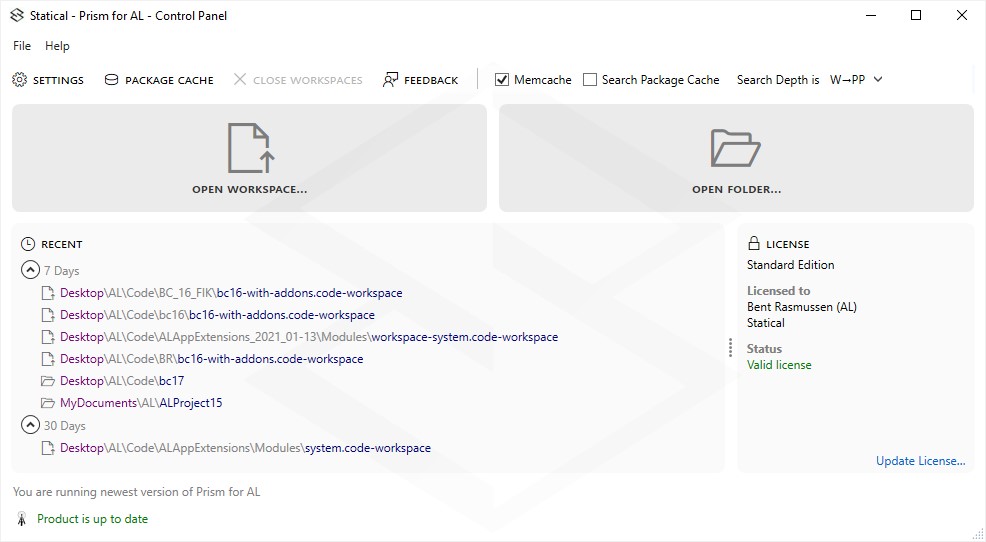 Everything Is Under Your Control
Open workspace file
Open workspace folder - even works without an app.json file (Prism will make a placeholder in-memory module and include your code and packages)
Control package dependency depth: ability to control what dependencies to load (via a setting)
Control package resolution: ability to use package cache to resolve dependencies when missing symbol files (via a setting)
Recent items grouped by recency
Visual Studio Code Integration
Navigate seamlessly between Prism and Visual Studio Code for easy editing.
Reload Workspace
Browse in Prism for AL and reload workspace to view latest changes (Prism for AL caches the workspace in memory).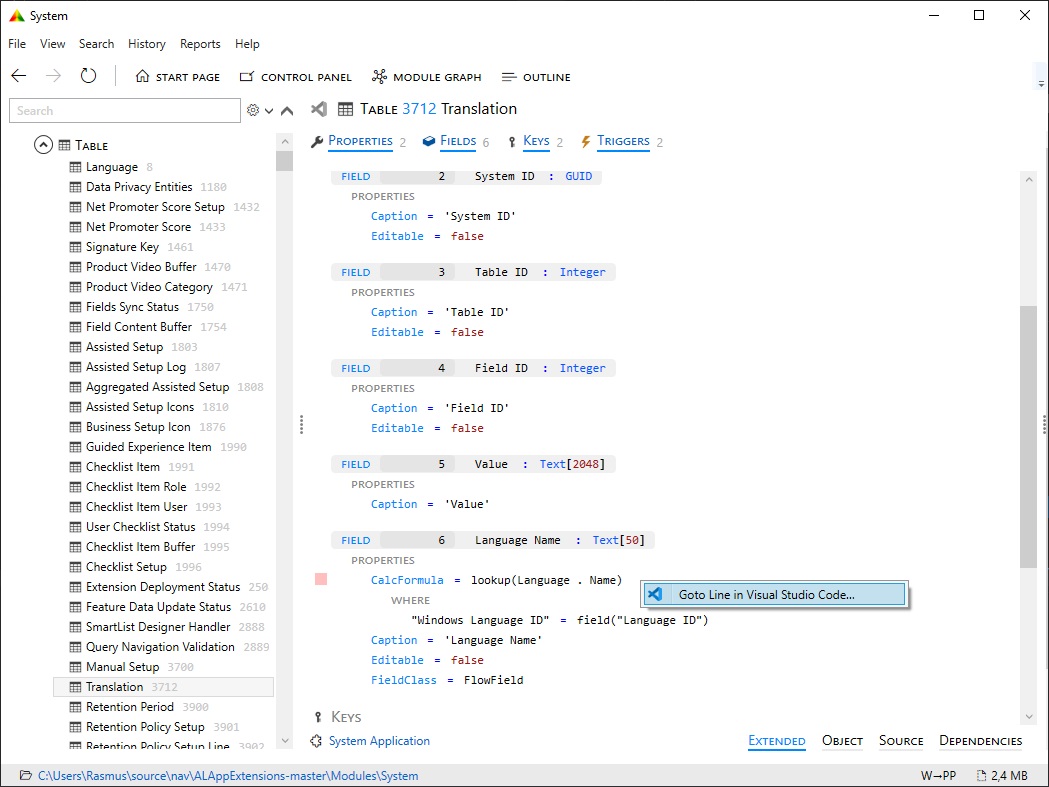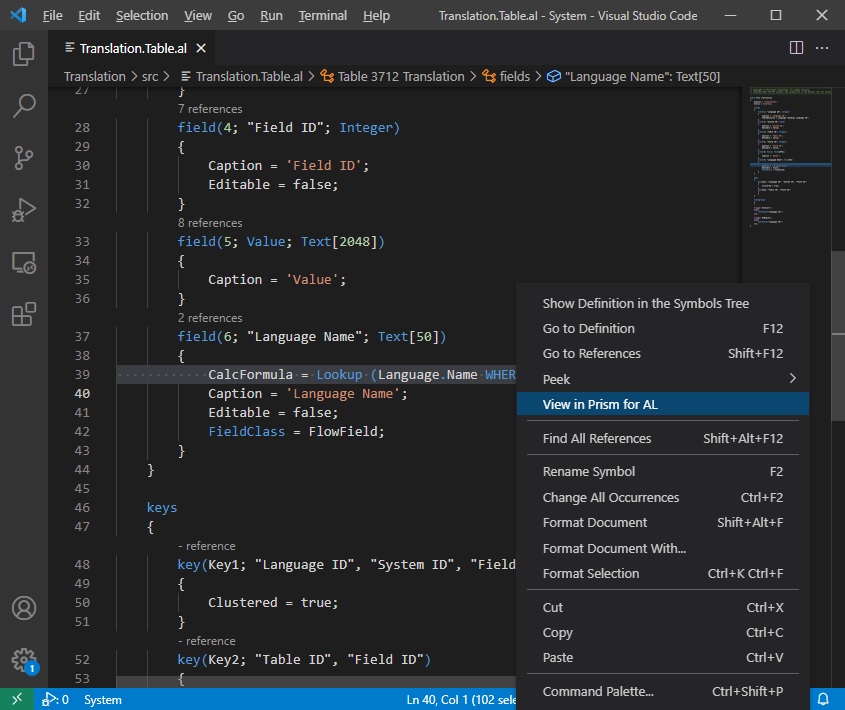 Module-Level Git Status
Get an overview of Git status at the module level.
Current branch
Pending changes, incoming and outgoing commits
Latest commit
Information automatically refreshed
Download
Want to take Prism for AL for a spin? — Go straight to download.
Try
See how you can try Prism for AL for free.
Experience how dependency analysis can empower you to make better decisions.
Buy
Ready to purchase Prism for AL? — Buy a subscription.